BirthdayShow

is a personalized PowerShow that you can give as a very special gift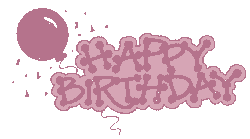 This Birthday Show will be a treasured show that your recipient can watch over and over.
A very unique show with beautiful birthday graphics and exciting special effects!
. We individually customize it with your
recipient's name, birthdate and a special birthday greeting from you
and of course Happy Birthday playing in the background.
The show will play on any Windows based Pentium II computer or newer.
Download a small sample of the show here
You can order for any day in the year. Even today! After ordering, we will send you the show via Email and then you can email it to your recipient.. That way you both can enjoy the special show.
Here's how it works:
1. You tell us your recipient's name and birthday (just the date, not the year). You also
write a short message as a greeting. Send that to Songbirdgp@aol.com
2. The cost of this service is only $5.99 by credit card using PayPal--no tax, no extra charges.
3. You can order the BirthdayShow to be delivered on any day. On the day you choose, we will send you the
BirthdayShow via email. (You must have an email that can accept attachments of at least 2mb(sorry no free email addresses like hotmail.com or yahoo.com etc)
4. We have a strong privacy policy, and we will absolutely never reveal any details to anyone.
Your BirthdayShow order will be completely secure..
As a special bonus, you will both receive FREE the exciting Birthday news On The Day You Were Born.(sample)
Simply include your name and birthdate with your email request. After your recipient receives their BirthdayShow from you,
they will need to also contact me for their free copy supplying their name, birthday and year they were born..
Any questions?? email us here Songbirdgp@aol.com
Give someone a BirthdayShow today!
Receive your Free "On The Day You Were Born" unique for your own Birthday
CLICK HERE TO ORDER NOW Via PAYPAL
If you do not have a PayPal account, it's very easy to get one. PayPal is the finest service
on the Internet for transferring funds to anyone.
If you would prefer to send a check or money order write me. Thanks, and please tell your friends! Noel